For our second big project of the school year, my 6th grade MYP Technology class will be designing tutorials, inspired by Alan November's presentation at our Bridging the Gap conference earlier this year.
I've also noticed that a lot of our students struggle to learn without direct teacher instruction – they don't seem to be as independent in their learning as I've come to expect. I'm not sure if that's because we are living in Japan, where literally every single thing comes with explicit instructions (e.g. the audio warnings everywhere you go, like "You are now on the escalator, hold the handrail and stand on the left," or this interesting story about Crocs) or if they're just used to being directly told what to do. I want to make sure that my students understand that they can learn anytime, anywhere, from anyone who is willing and able to share their knowledge. I want them to have the skills not only to be able to find out the answer, but also to share what they know. I'm glad to see that other teachers are trying the same thing too…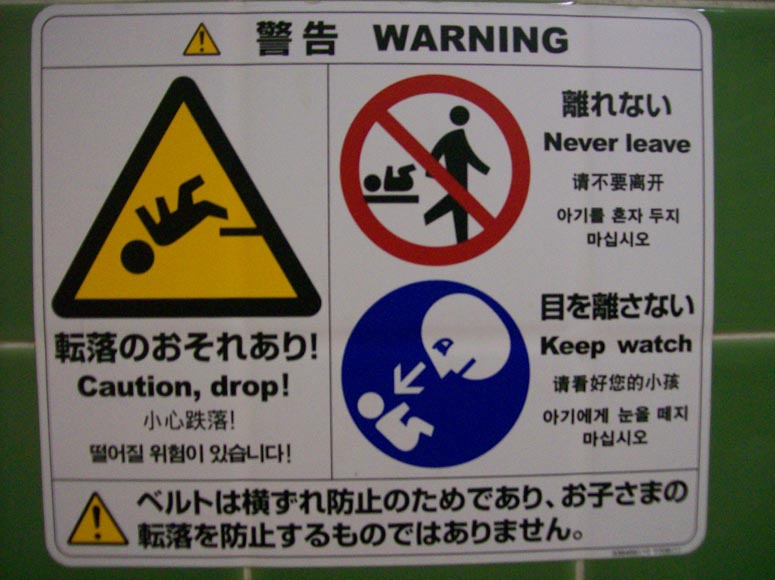 So, we're making tutorials. Most likely they will be about anything students are interested in sharing, but I'm also thinking about potentially having them make tutorials for other teachers. Maybe coming up with a survey for teachers to find out what students at grade 6 or lower commonly struggle with, so my class can develop student-friendly tutorials. I like the idea of developing a library of student-created teaching materials, and having a very authentic audience and purpose for a project. But, I'm also conscious of not giving them a task that is too academically heavy – in my class we get to focus on the tech!
Here's how the project is going to flow, following the MYP Technology Design Cycle:
Investigate
For our first lesson, I handed students 3 blank sheets of paper. On the first sheet I asked them to draw a picture (something simple enough that they could draw in 2 minutes, but not so simple that it takes much less than 2 minutes). On the second piece of paper they wrote the steps to create that drawing. I then re-distributed the instructions to other students in the class and gave them a few minutes to re-create the drawings. (First complaint: handwriting, every time).
After they had enough time to draw their mystery object, we compared. Needless to say, hilarity ensued. Very few of the drawings were done correctly, and just by going through the process, they realized how important each step is to the final outcome – and how much more helpful those steps are when accompanied by visuals.
Next, we watched a simple drawing tutorial and used the third sheet of paper to follow along and draw the design. Not surprisingly, almost everyone was able to draw the picture perfectly. We then talked about the difference between the video tutorial and written steps, and determined some basic requirements for a good tutorial.
For homework, students watched and reviewed 3 – 5 other tutorials of their choice, using this Tutorial Research document. During the next lesson, they shared what they discovered with a partner. They also took their favorite tutorial, embedded it in a blog post and wrote a short description about why it was so effective. For homework, each student was asked to watch and comment on two other students' posts.
Next, they thought about a simple tech skill that other students often ask them for help with, something they can do very easily. They partnered with someone else in the class and had them do that skill while writing down each step. For our next lesson, they will create a simple tutorial using Google Presentations, using screenshots and written directions to practice putting steps in the correct order and selecting the appropriate part of the screen to highlight.
Once their practice tutorials are complete, we will create a class list of criteria for what makes a good tutorial – reflecting on what we've learned so far. This criteria list will become their rubric for assessing their finished tutorials.
Plan
During this stage, students will create a storyboard for their tutorial, ensuring that they have included each step in the process. If we end up doing tutorials for other subject-area content, we will brainstorm ways to make their tutorials unique and entertaining. I'm thinking of having students come up with a theme for their class – almost like a video podcast about 6th grade learning, slightly different for each class that I teach. Maybe we'll have some intro music that we create in GarageBand or maybe a specific title or theme for each class' set of tutorials.
Of course, they will also write a script and the steps for their tutorial. As I always say when students make storyboards, they will need to be clear enough that anyone in the class can create their tutorial – without any help from the author.
Students will also have some time to think about which tool will be best to create their tutorial. We have QuickTime (simple screencasting), Jing, VoiceThread (might be good if students work in teams), iMovie (if they decide to film instead of screencast) and of course all of the online options. Whatever they decide to use also needs to be shared online.
Create
The fun part! This is when students will actually create their tutorials, using the storyboard and script developed in the Plan stage. At the moment, I'm not sure if they will complete their tutorials independently or in partners. It will probably depend on how difficult the topic is and what students prefer. Before students finish their tutorial, they will have at least one Peer Reviewer using the criteria we developed during the Investigate stage give them formal feedback about their finished project.
Evaluate
For the final stage of the project, we'll watch each others' tutorials, share feedback and reflect on the process and product. If it turns out that the tutorials can be grouped well together, we might end up making a wiki or some other central portal to house all of them. I can imagine a wiki with links to all of the subject areas and grade levels with a few tutorials for each – it would be a great project to continue to build upon in the following school year.
Final Thoughts
So, that's the plan. I'm super excited to see where the project goes! It certainly will be interesting to see if going through this process with help our students become more confident in this type of learning how to learn.
If we end up with a list of tutorial topics from other subject-area teachers, would anyone be interested in collaborating with us? It might be fun to see if our students explain the same concepts differently than others and to discuss why. It definitely would be great to have a resource of student-created tutorials from students around the world too!
Image Credits: